HOTEL KASI'S INN(P) LTD
Temples and Tourist Spots

1. Thiyagaraja Temple (1km)


Head quarters of saivas.The temple is also called as " SARVADOSHA  PARIKARASTHALAM". It has a beautiful tank called KAMALALAYAM which is equivalent in area to the temple

2.Sapthavidangal
The 7 siva temples Thiruvarur, Thirunagai, Thirunallar, Thiruvaimoor, Thirukaravaasal, Thirukozhizhi and Thirumaraikaadu are collectively called as SAPTHAVIDANGAL and all are near to Thiruvarur.

3. Thirukollikadu (24kms)
The Pongu Saneeswara Temple is located 24 kms from Thiruvarur.
4.Navakraga Temples
Tourists can visit all Navakraga temples in a single day by staying in Thiruvarur.
5.Koothanur (22kms)
The only temple for goddess Saraswathy is situated in Koothanur which is only 22 kms from Thiruvarur.

6.Sikkal Singaravelar (21KMS)
The "vel" for Thiruchendhur soorasamharam is being taken from this murugan temple every year.

7.Velankkanni(35KMS)
The world famous shrine basilica is situated 35 kms from Thiruvarur. There are 2 beautiful churches and excellent beach

8.Nagore Dharga(30KMS)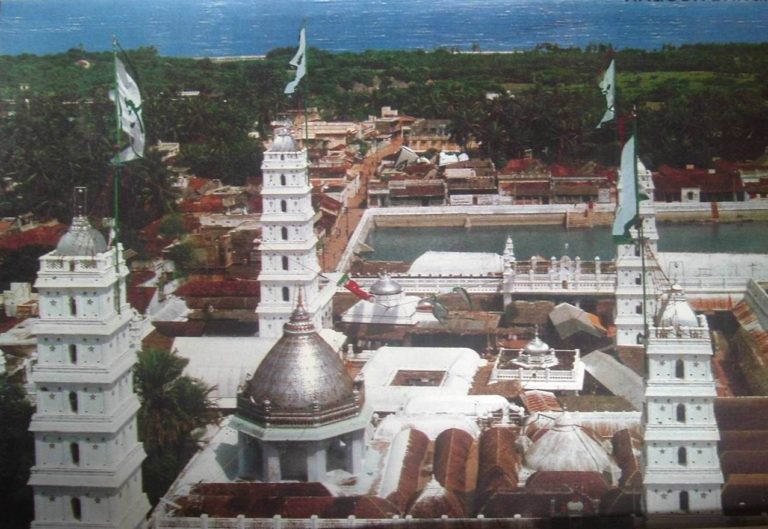 The holy place for muslims is situated  just 30 kms from Thiruvarur .SANTHANA KOODU function  is conducted every year here.



Other Important Temples
1.THIRUKKANNAMANGAI-108 DHVYA DESAM - 8KMS
2.ENGAN – LORD MURUGA - 13KMS
3.THIRUVIRKUDI ,ASTA VEERAATTANA STHALAM –LORD SHIVA - 13KMS
4.SRI VANNJIYAM-LORD SIVA - 16KMS
5.THIRUPPUHALUR- VAASTHU STHALAM - 16KMS
6.THIRUKANNAPURAM- 108 DHIVYA DESAM - 19KMS
7.THIRUKANNANGUDI-108 DHIVYA DESAM - 19KMS
8.THIRUKKUVALAI -SAPTHA VIDANKAR-LORD SHIVA - 20KMS
9.PORAVACHERI- LOAR MURUGA  - 21KMS
10.AATHI VINAAYAKAR TEMPLE - 22KMS
11.THIRUCHENKAATTAANKUDI - 23KMS
12.THIRUVEEZHIMIZHALAI - 23KMS
14.ETTUKUDI-LORD MURUGA - 25KMS
15.THIRUMIYACHUR-LALITHAMBIGA TEMPLE - 26KMS
16.THIRUCHERAI-108 DHVYA DESAM - 27KMS
17.AAVARANI-LORD KRISHNA - 27KMS
18.NAGAPATTINAM -108 DHIVYA DESAM - 27KMS
19.THIRUVOIMOOR-SAPTHE VIDANKAR  - 28KMS
20.THIRU RAAMESWARAM-LORD SHIVA - 28KMS
22.NACHIYAARKOVIL-108 DHIVYA DESAM - 30KMS
23.KORAKKAR SITHAR TEMPLE - 30KMS
24.MANNARGUDI-LORD KRISHNA - 30KMS
25.THIRUPPAAMBURAM – (RAGU,.KETHU) - 32KMS
27.AALANGUDI NAVAKIRAGA (GURU) - 37KMS
28.PRITHIYANKAARADEVI TEMPLE – AYYAVAADI - 38KMS     




Tourist Spots
1.Perumpannaiyur church


2.Muthupet Lagoon Forest


3.Vaduvoor Birds Sanctuary
4.Kodiyakarai Bird And Deer Sanctuary